No mercado há cidade

Concurso para a reabilitação do Mercado Municipal de Braga

Colaboração com Afonso Romana, André Cardoso e Francisco Amoedo Pinto

Braga, 2016
Um mercado deve enfatizar e explorar ao máximo as potencialidades enquanto centro nevrálgico comercial de uma cidade e, ao mesmo tempo, assumir-se como um espaço público de relação com a comunidade. Para tal, entende-se que a função primordial de um mercado deve ser mantida e defendida mas novas funções e programas podem ser conjugados no sentido de dar uma nova vida a um conceito tradicional do quotidiano comunitário.
A market should emphasize and exploit the full potential as a commercial nerve center of a city and at the same time, position itself as a public space 
for community. To this end, we believe that the primary function of a market must be maintained and defended but new functions and programs can be combined in order to give a new life to a traditional concept of the everyday life community.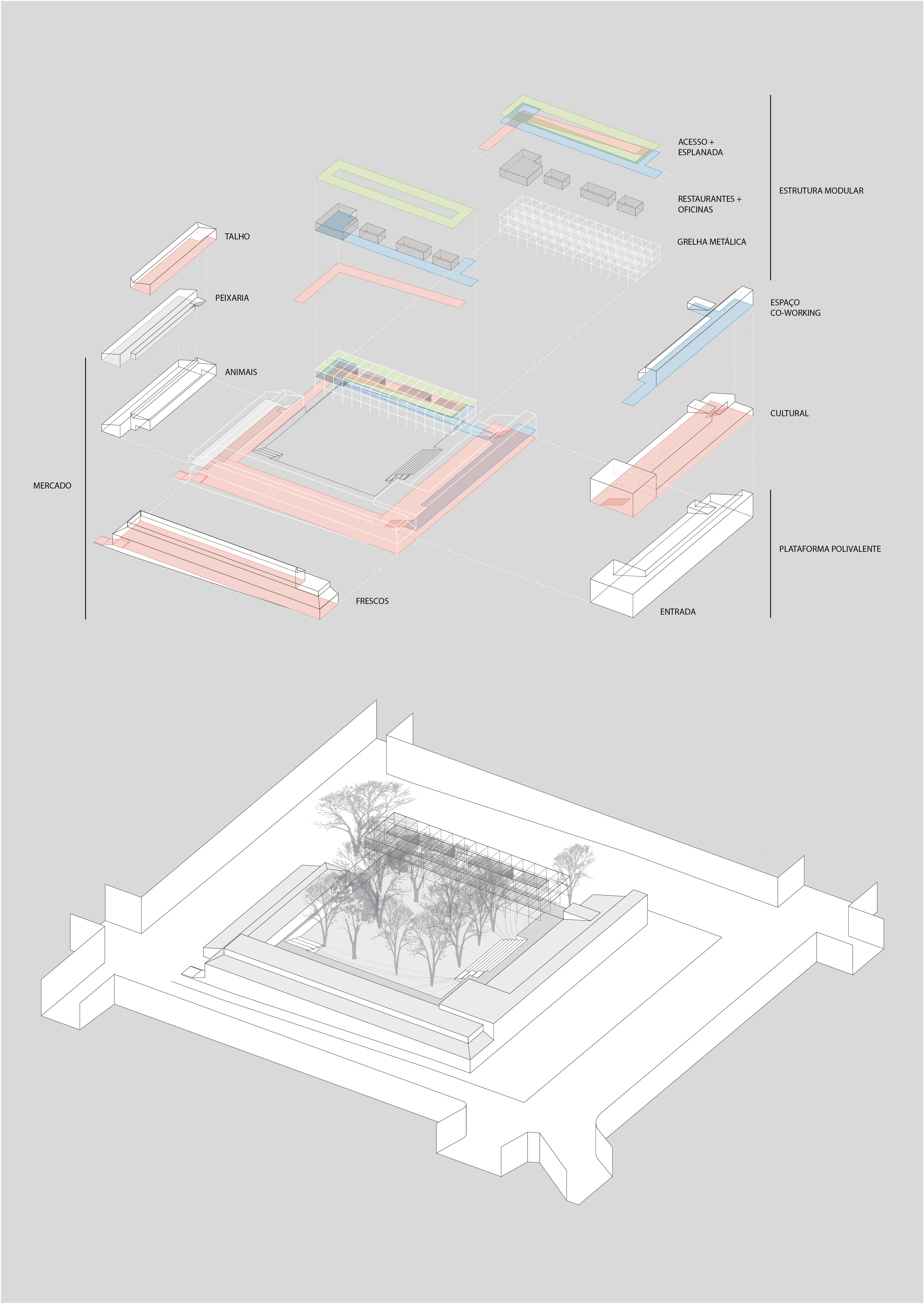 Com base na análise aos usos actuais do mercado, foram elencados os seguintes objectivos:
Re-organizar os diversos tipos de venda e a respectiva localização; reagrupar a ocupação pontual para maximizar as potencialidades dos diferentes espaços do mercado; limpar e clarificar o espaço central do complexo–confuso, sem qualquer relação com o interior do edifício e o espaço de circulação claustral; encontrar novos usos resultantes do re- aproveitamento de espaços anteriormente sub-valorizados.

Torna-se essencial manter as qualidades actualmente presentes e encontrar novas soluções que valorizem as potencialidades do mercado. Encarar a intervenção no complexo existente com sensibilidade mas tendo sempre a capacidade de perceber quais as alterações necessárias para que as qualidades do mesmo se evidenciem, de modo a ultrapassar os problemas encontrados.
Based on the analysis of the current market functions, the following objectives were listed: to 
reorganize the various types of commerce/trade and its locations; to regroup the occupation in order to maximize the potential of the different market spaces;
 to clean and to simplify the central space of the building
, that is not in any relation to the interior of the building 
and cloistered circulation space;
 to find new uses resulting from the re-use of previously undervalued spaces.

It is important to maintain the already present qualities and find new solutions that enhance the market potential.
 The inervention in the existing complex should be faced in a sensitive way Face intervention in the existing complex sensitively but always having the ability to understand what the necessary changes are in order to overcome the problems encountered.
Alas sul e oeste — Mercado

O mercado passa a concentrar-se nos dois corpos a Sul e Oeste. A localização da peixaria mantém-se no piso inferior do corpo Oeste. A Este junta-se a venda de animais vivos, voltada para o pátio interior. No piso superior, reagrupam-se as carnes tamb ém de face para o pátio. Os frescos são todos transferidos para o corpo Sul, suprimindo as paredes e assegurando a liberdade estrutural e fluidez, enquanto grande espaço aberto de circulação e venda dos produtos.
South and west wings — Market
The market is going to focus on the two bodies to the south and west. The location of the fish market remains on the lower floor of the West body. In this joins the sale of live animals, facing the inner courtyard. Upstairs, the meat area is regroup also face the courtyard. The fresh area is transferred to the South body, eliminating the walls and ensuring structural freedom and fluidity, as a large open space of movement and sale of products.
Ala este — Plataforma polivalente
A nave interior converte-se num espaço polivalente. Tendo em conta a variação de horários do mercado, bem como do número de pontos de venda consoante os días da semana, entendemos que a melhor solução é um espaço livre com a capacidade de se adaptar de acordo com as necesidades ao longo dos días.
East wing — Polyvalent platform
The interior nature becomes a multipurpose space. Taking into account the variation of market timing and the number of outlets depending on the days of the week, we understand that the best solution is a free space with the ability to adapt according to the needs over the days.
Ala norte — Estrutura modular | Claustro — Centro estruturante
A Norte é proposta uma estrutura modular metálica para instalação de espaços de restauração e/ou trabalho a uma cota superior. Ao mesmo tempo, a estrutura garante a comunicação entre diferentes pisos e alas do complexo, através de um sistema de circulação ao redor do pátio central.
O claustro torna-se o espaço principal de todo o complexo. Por consideramos que o mesmo tem sido desvalorizado enquanto espaço central unificador do mercado é a maior alteração proposta pelo grupo.
North wing — Modular structure | Cloister — centre
In the North wing, there is propose a modular metal structure for installation of dining outlets and /or workshops. At the same time, the structure allows the communication between different floors and sides of the complex, through a circulation system around the central courtyard.__

The cloister becomes the main space of the entire complex. By we consider that it has been devalued while unifying central market space is the biggest change proposed by the group.
Aquilo que se procura não é tentar cristalizar, higienizar ou
disneyficar
aquilo que é um mercado. Essa é a grande qualidade presente e pretende-se que nunca se perca.
São propostos usos partilhados, ao realçar todas as potencialidades do espaço, evidenciando o mercado enquanto espaço da cidade e para a cidade. Enquanto espaço verdadeiramente público, usado por todos e para todos.
What we seek does not try to crystallize, sanitize or "disneyfy" what a market is. We understand that this is the great quality gift and we want never to lose.

What we propose are shared uses, highlighting all the space potential, highlighting the market as a city space and city. As a truly public space, used by all and for all.